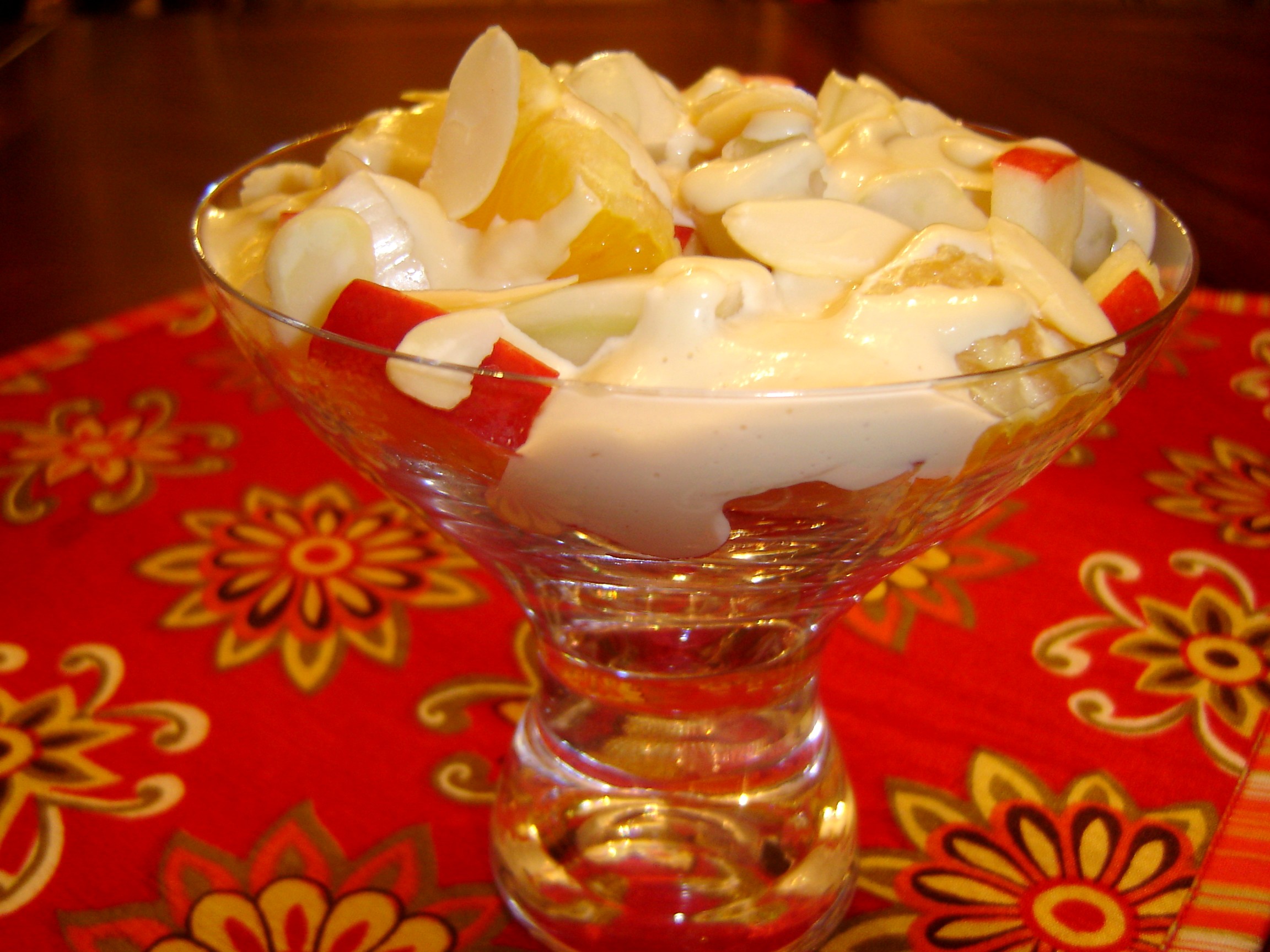 Good lookin' parfait dressed with sweet orange cream. Easy, healthy, delicious. Who would have thought that the combination of fennel, apples, and orange goes so well together? And, a slightly sweet orange dressing with the crunchiness of macadamia nuts makes this an outstanding dessert; don't you just love to eat?
FENNEL

 -

delicious and versatile

 
Let's talk about fennel. Fennel is a aromatic, sweet and crunchy vegetable. It contains phytonutrients such as rutin and quercetin. In addition, fennel is a very good source of vitamin C, folate, potassium and fibre. The bulb, stalk, leaves and seeds are all edible.
APPLES
-
crisp, sweet and delicious
Apples contain malic and tartaric acid, which promote good digestion and cleanse the liver. In addition, they are rich in anti-inflammatory and anti-cancer phytonutrients such as flavonoids and polyphenols. Apples are also an excellent source of vitamin B, beta-carotene, vitamin C, and pectin, a soluble fibre that can help remove toxins from the body. Have at least an apple a day, preferably before noon on empty stomach.
ALMONDS - 

s

weet and low in acid
Almonds contain protein, vitamin E, calcium, iron, magnesium, potassium and zinc. In addition, they are anti-inflammatory and strengthen the nervous system.
Fennel Apple Parfait
♥
2 fennel bulbs, chopped
♥ 4 small apples, peeled and cored
♥ 1 orange, peeled
♥ ½ cup almonds, slivered
♥ 1 tbsp large flake coconut
♥  Sweet orange cream 
1. In a mixing bowl combine fennel and apple slices.
2. Pour Orange cream over mixture
3. Sprinkle with slivered almonds and serve
Sweet Orange Cream
♥ 1 cup macadamia nuts, raw
♥ 1 orange, freshly squeezed
♥ Vanilla powder or liquid
♥ Pinch of Celtic salt
♥ Coconut water to a smooth consistency
♥ Coconut oil
♥ Raw coconut nectar to taste (optional)
1. Mix all the ingredients in a blender.