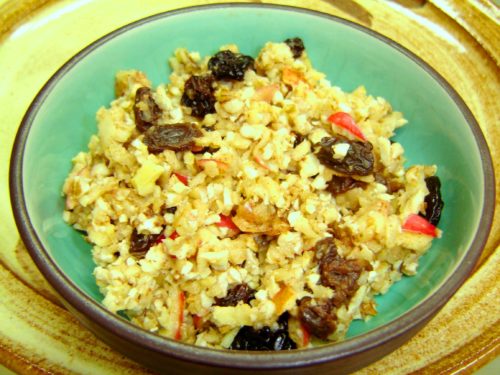 Apple Crisp is a great dish for breakfast or snack, packed with protein and good carbs. There are so many easy, snacks out there that can leave you heavy and sluggish after a while. So, the idea is that you can make your own healthy snacks and breakfast that is fast, easy, delicious and at the same time nutritious. And, so irresistible no one in your family will refuse them.
I am introducing you to the most delicious, fun, easy-to-make mouth-watering recipe: Apple Crisp.  This snack is great tasting alternative that looks appealing and taste absolutely delicious.
Sunflower seeds -
nutty tasting seeds
I just love sunflower seeds. I eat them every day.  They are delicious and nutritious nutty tasting seeds, rich in vitamin E, zinc, B complex, Selenium, magnesium and linoleic acid. Sunflower seeds lubricate the intestines and prevent constipation. They contain Phytosterols a compound found in plants. When present in our diet it can lower cholesterol and prevent heart disease.
Almonds - In my sweet Apple Crisp
Almonds are sweet and low in acid; contain protein, vitamin E, calcium, iron, magnesium, potassium and zinc. They are anti-inflammatory and strengthen the nervous system.
Goji berries -
the most nutritionally rich Apple Crisp 
Goji berries are one of the most nutritionally rich foods on the planet; it contains 18 essential amino acids, trace minerals, vitamin C and vitamin B.  Goji berries are a dried fruit the size of a raisin, and taste like a cross between a cranberry and cherry.  Goji berries grow in million-year old soil in wild and cultivated areas in the Tibetan and Mongolian Himalayas.  Try to get certified Goji berries as being chemical and contaminant free and naturally dried.  Goji berries can be used as a snack or mixed with smoothies and protein shakes.
Apple Crisp
♥
2 large apples, peeled, chopped                      
♥ ½ tsp all spice
♥ ½ cup almonds
♥

½ cup sunflower seeds, soaked 4 hours
♥

½ cup Goji berries, soaked for 1/2 hour
♥

½ cup vanilla extract
♥

¼ tsp Celtic salt
♥

Coconut water
♥

½ lemon, freshly squeezed
1. Soak almonds overnight.
2. Soak sunflower seeds for 4 hours.
3. Blend all ingredients together in food processor until slightly chunky.